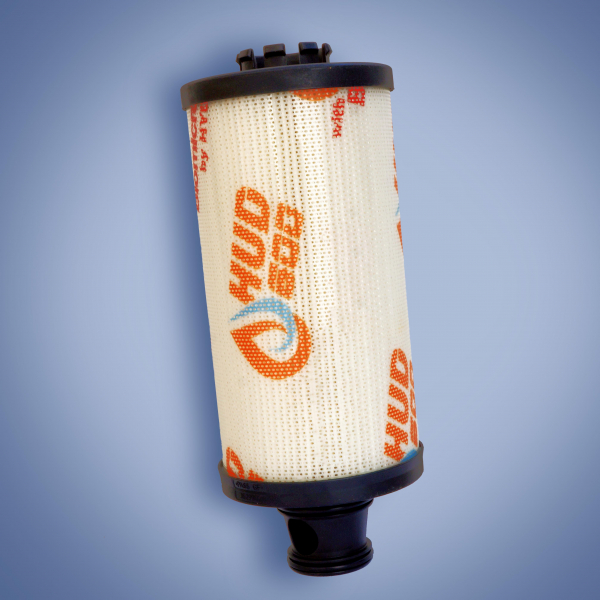 139,00 €
plus € 6,00 and up for shipping
HUD 600 Spare Filter Kit
DIESEL FILTER HUD 600
With anti-diesel bug filter technology, highly efficient 2-stage water separation, electric pump and a fuel preheater, the diesel filter HUD 600 offers unique advantages compared to regular filters.
ELECTRIC FEED PUMP
Fuel circulation. During longer idle periods, the tank contents can be circulated by the pump through the bacteria filter and water separator without having to start the vehicle.
Cold start. At temperatures below 5 degrees Celsius, the fuel heater preheats the fuel automatically and regulates itself. This means that the engine can be started without any problems and is ready for use at any time.

Automatic venting. The fuel system is automatically vented via the pump and a bypass without manual pumping, without pressure loss and without additional screw fittings.
No loss of power. The pump prevents a decrease of the fuel flow due to the use of additional pre-filtration and water separation. The increase in differential pressure due to microbial contamination remains as low as possible, which significantly extends the filter service life.
Durability. Manufactured from high-quality stainless steel components, it is brushless, therefore particularly durable. A potential failure of the pump does not affect the overall system, i.e. no travel interruption!

PREHEATER
Fully automatic activation. The electric preheater monitors the fuel temperature and switches on automatically if there is a risk of paraffinization.

DIESEL BUG
The filter has a special antimicrobial filter element that successfully kills bacteria.
WATER SEPARATION
The HUD diesel filter separates even the finest water droplets from diesel through a two-stage process:

Stage 1: Separation of larger water droplets.
Stage 2: Separation of the smallest droplets, regardless of the degree of contamination.

WATER SENSOR
Visual control in the cockpit. Optionally, the HUD 600 includes a water sensor which activates a visual signal in the cab when the filter needs to be drained.